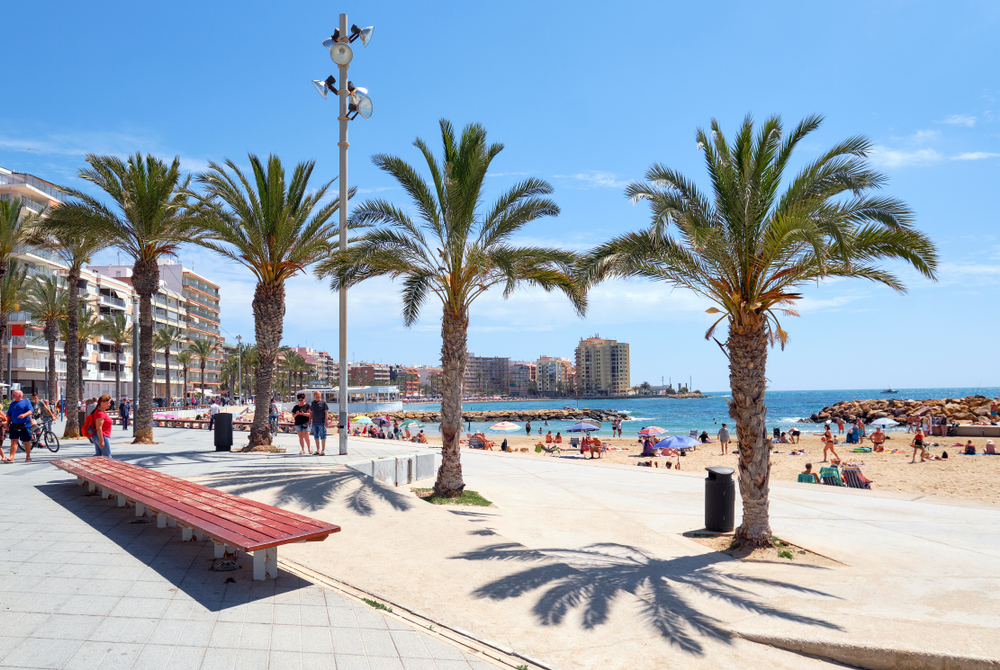 Torrevieja – So Much More Than Just an 'Old Tower'
For a town whose name literally translates as 'Old Tower' you can be sure that Torrevieja is so much more than just than that. It's a much loved resort amongst the Brits, is by far one of the fastest growing cities in Spain from a tourism perspective, and is a 'holiday home' hotspot perfect for people wishing to escape the hustles and bustles of their home towns, and enjoy the fabulous climate, gastronomy delights and lifestyle options, of which there are plenty.
Initially founded in the 18th century and built around one of the local watchtowers that were quite prominent along the Costa Blanca Coastline, Torrevieja is situated within the very popular district of the Vega Baja, approximately 40km away from Alicante and approximately 50km away from Murcia. A coastal resort, but protected by the surrounding mountains & hills (which give it a beautiful backdrop) it offers around 320 sunshine days per year, with an average climate of 19 degrees all year around. Even as we write this now, the first few days of October are set to be delightfully warm with highs of between 25 to 27 degrees during the day and between 13 to 17 degrees during the night.
Due to its unique position, there's a real sense of freedom here amongst it's 100,000 inhabitants, and you'll find a really good mix of nationalities, so expat communities are really thriving and continuing to grow. Many of the public schools in Torrevieja teach an English and Spanish curriculum, medical care consists of both public and private clinics (Spanish healthcare is regularly voted one of the best in the World) and Sports on offer include Golf, Cycling, Running, Hiking, Football, Rugby, Water Sports, Padel & Tennis.
Torrevieja is also a haven for wildlife with many rare birds living in the surrounding countryside, and the Flamingos who reside in the lakes and lagoons. The pink lakes with their sea water properties are also a perfect place for healing and can help with respiratory diseases, allergies and musculoskeletal disorders. Be sure to check out the Torrevieja mud-baths too which are great for the skin!
In terms of beaches you've got plenty to choose from including La Mata, Los Locos, Del Cura and Los Naufragos. Some of the beaches have been awarded the prestigious blue flag award meaning they conform to the highest of standards and not only that, but there's also a fabulous array of water sports facilities on offer plus the promenade which stretches all the way along the coastline has numerous playground for the little ones and a plethora of bars & restaurants for refreshments & dining.
As rated by Trip Advisor (https://www.tripadvisor.com/Attractions-g187527-Activities-Torrevieja_Costa_Blanca_Province_of_Alicante_Valencian_Country.html) some of the top 15 things to do within Torrevieja include the Parque de Las Naciones (a lovely local park with fountains, playgrounds and flower gardens), Aquapark Flamingo & Aquopolis Torrevieja (the best 2 places where you can really cool off during the summer months), The Floating Submarine Museum (to see what life is really like on-board) and the Mercadillo de Torrevieja (food stalls and farmers market). The Iglesia de La Inmaculada Concepcion is also worth a visit especially at Easter and Christmas.
If you are looking at Torrevieja for your new holiday home or for your permanent home, then Simply Spanish Homes would be delighted to help you, and currently we have a wide range of properties available here, both apartments and villas which range in value from €60,000 to €500,000. You'll also be pleased to know that the IBI Property tax rate in Torrevieja is amongst the lowest in Spain and the living costs are still relatively lower also when compared to the UK.
If you would like further information on living or buying property in Torrevieja please do contact us here: https://simplyspanishhomes.com/contact/.
Here are just some of the properties we have available in Torrevieja right now: