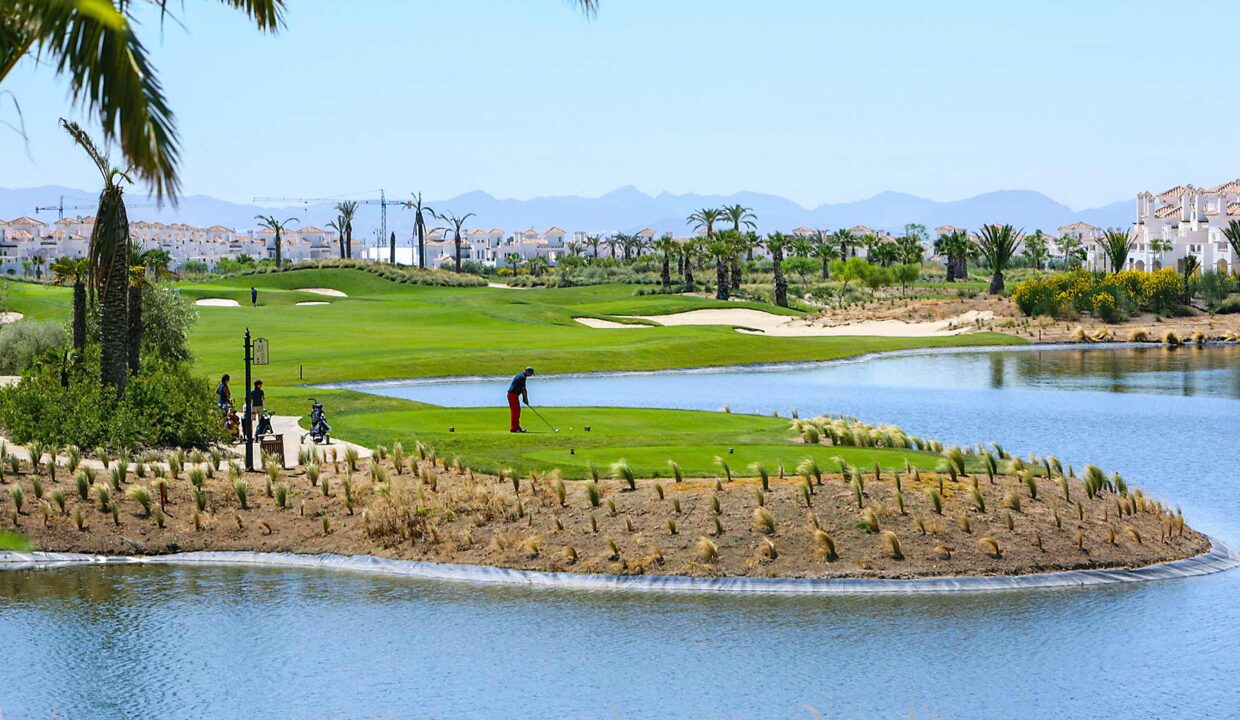 La Torre Golf Resort Property for Sale
La Torre Golf Resort is situated close to the traditional Spanish towns of Roldan & Balsicas, just a few kilometres from the famous beaches of the Mar Menor, around 20 minutes from the airport at Corvera and is less than 30 minutes away by car from the historical town of Cartagena, which has one of the best preserved Roman Theatres in Spain.
Designed as a 5* resort which offers Golf, a variety of leisure activities as well as a good choice of bars and restaurants it's very popular with both holidaymakers and those who wish to permanently re-locate to the region, in order to enjoy the typically Mediterranean lifestyle and year-round warm climate.
Dominating the landscape of the La Torre Golf Resort is the central lake where you will find on it's banks the 'Town Centre' which offers the restaurants, bars, conference centre, pub and the prestigious 5* Double Tree Hilton Hotel, which also has a gym, sauna, and indoor pool (free for hotel guests and a small additional cost for those on the resort). Not only that, in and around the town centre, you'll also find a large supermarket and the Kings College School which offers some of the best private education in the local area.
With over 20 communal pools, 2 full size tennis courts, outdoor gym areas, basketball pitch, football pitch, play areas and many other facilities (which also includes 24 hour resort security) it's really no wonder why it's become such a popular place in which to find your dream home, and there is a good choice of property for sale available. Whether it's for use as a holiday home or to move here permanently you won't be disappointed, as it's extremely family friendly, and is relatively easy to get to. One of the other benefits to buying property on La Torre Golf Resort is that if you did want to rent the property out during the busy summer months you should get a decent return on your investment, as it's proven to be a very popular destination for tourists too.
The resort itself actually features a total of 2,648 homes, with a mixture of apartments, penthouses, semi detached houses and villas. Right now, for example, Simply Spanish Homes has 5 properties available for sale, ranging in value from €59,000 to €159,950. There really is a strong sense of community on this resort, and there's a tight expat network, many of whom are British. There is also a community of owners and a fabulous website where you can find lots of helpful hints/tips and information (https://latorreinfo.com/). Do bear in mind, that if you do choose to buy property on the La Torre Resort that you would be liable for community fees, which range in value depending on what you purchase, but will cover you for the up-keep of the resort & the communal areas plus you'll get access to all the communal pools, Wifi, TV, building insurance, lift maintenance and the 24hr security on site.
The golf course was actually the 2nd of 6 resorts built by Polaris World, but it's by far the most complete resort and the most popular. Designed by Jack Nicklaus it's got 18 holes, is a par 68 course and is around 5403m. Not only that, but it has more than 5 hectors of bunkers, a good spread of trees and dense grass, so it can be a challenging course to play on, though it does offer impeccable surfaces and fabulous greens. Back in 2011 it hosted the Spanish Senior Professional Competition, so bear that in mind if you have a good round! If you feel like you need to practice your game before going out, there's also a driving range, Putting Green and Bunker Area.
If you want further information about the Resort, and what it can offer then please do contact us directly or jump on their website here: https://www.latorregolfresort.com/
In terms of properties for sale on the Resort, this is what we currently have available. Click on each property for further information, and, please – if you don't see your dream home straight away, do contact us and we will be happy to help you find it.